Automation Services
TPS helps you take control of your processing system.
Flexibility Is Built In
Experienced professionals design our automation systems with the highest quality components and an emphasis on long-term reliability and ease of use. Our approach is to provide an "open architecture" platform, which allows the client to make desired changes without being locked into a particular integrator. This flexibility is important because it allows you to make further modifications to your control system without having to pay additional licensing fees.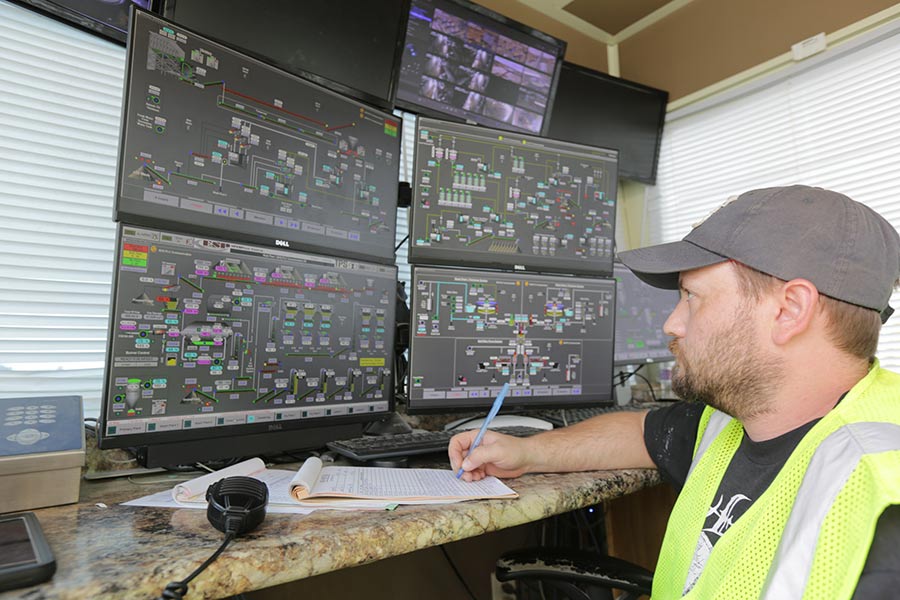 Engineered Software Products (ESP)
ESP, a full-service control system integrator located in Lawrenceville, Georgia, has 20 years of experience and a proven track record of more than 200 aggregate plant automation projects. TPS has completed many successful projects with ESP, and we are confident that the synergy between our companies will offer you the best control system and the best value.
Electrical Systems
TPS electrical systems include high-, medium- and low-voltage electrical design, specification and supply:
High-voltage power distribution, switchgear and transformers
Medium-/low-voltage switchboards, MCCs, soft starters and VFDs
Prefabricated electrical houses (E-House)
Conduit/duct bank/cable schedules for motor leads and field instrumentation between electrical houses and field devices
Field marshaling panel specification and supply
Instrumentation
Turnkey electrical installation
PLC/HMI/Network Control System design, specification and supply:
PLC hardware, prefabricated enclosure
HMI software, PC equipment
PLC/HMI plant control automation software application
Network equipment
Commissioning
Long-term support
Engineering CAD design and documentation:
Ground Fault/Arc Flash-Short Circuit and Relay Coordination Study
Power single lines
Motor elementaries
PLC enclosure exterior, interior layouts and 120vac/24vdc schematics
I/O connection diagrams