Mine Planning Services
TPS designs mines that are practical, efficient and cost effective.
TPS Brings Your Mining Project All Together
The mining industry is complex. Our multi-disciplinary team, led by an experienced project manager, collaborates with independent experts in related disciplines to provide the mining plan that best suits your unique needs.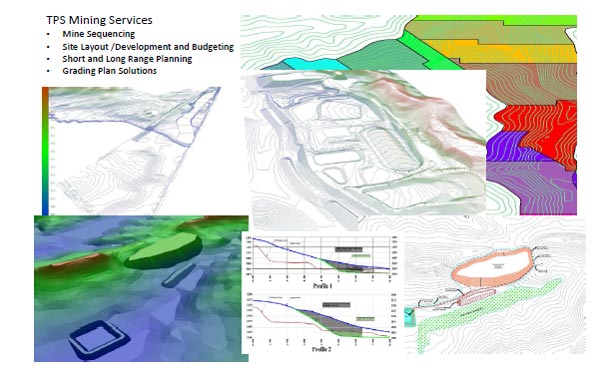 The goal of a mine is to obtain the most ore at the lowest cost, through the safest means possible. Underground and surface mine planning involves producing the optimum layout for the workings and geological nature of the property that will achieve that goal.
Our mine plans take into consideration:
The location of the target material
How to get at the ore, i.e., the kind and quantity of rocks that stand between you and the ore
The amount of groundwater that may flow in and hinder your progress
How to support the rock roof to prevent collapse
Getting air into and out of the workings
The best way to safely maneuver workers, equipment and materials
Mine Planning Is Multi-Disciplinary
TPS brings together the many experts required to develop a comprehensive mine design:
Geologists are knowledgeable about the rocks and orebody
Hydrologists are consulted about the groundwater
Mining engineers lay out the actual shaft, stopes and associated workings
Ventilation engineers are crucial to ensure safety
Mechanical engineers select, install and keep the equipment operating
Rock mechanics are invaluable in pillar layout and rock support